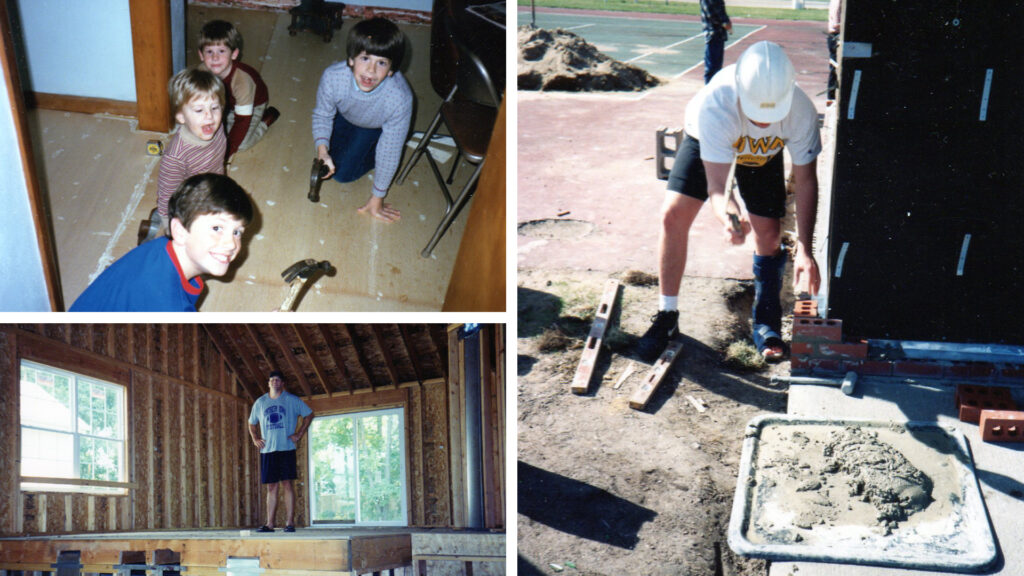 Zehr Homes' founder, Nate Zehr, grew up steeped in construction—he learned the trade working for his Uncle Paul during summer breaks. He followed a successful college football career into a high school coaching job, but he kept thinking about the feeling he got when finishing a construction project—that satisfaction-from-a-job-well-done was calling.
With support from colleagues with contracting and real estate contacts, Nate began exploring a possible move into the construction industry. "I was kind of on the fence about resigning from teaching," Nate remembers. "It's a scary thing." Insight and encouragement from friends in the business gave Nate the confidence that he was on the right path: Zehr Homes was born in 2002.
First home build
Nate's first home project was a California split-level spec home built in Lee's Summit. He was proud that the family who bought the home finished raising their children there and stayed for a decade. The first project led to another, and soon Nate was deep into the intense learning curve of those early years, refining his process as he went. He streamlined his scheduling and procurement skills and learned how to adapt home plans to lots with challenging slopes.
Favorite early projects
"One of my favorite homes was one I built in a subdivision called Winterset in Lee's Summit," says Nate. It was 5,000 ft2 with a two-story kitchen and great room. The second story had an overlook that looked down into that main gathering space, with its large windows and fireplace. "They ended up happy," Nate says simply of the home's lucky owners.
A crash and a pivot
In addition to Zehr Homes, Nate had two other home-building partnerships during the 2000s that kept him busy. During the housing boom, Nate's wife, Lori, got her Realtor license so she could help sell the homes they were building. "We were all wrapped up in the home business," Nate remembers.
When the housing crash came, Nate and Lori moved their family into a spec house they were trying to sell. Nate ended his other businesses and focused his efforts exclusively on Zehr Homes. While that era was hard, Nate says they learned a lot from the crash, including how to run a debt-free business and how to base long-term decisions on the possibile directions the next ten years could take—instead of making quick decisions based on current conditions alone.
"The housing market has picked back up, and it's time to do it again, and do it right," says Nate, "using the knowledge we gained through that experience."
Before the crash, Nate did a little remodeling, including basement finishing and garage additions, while he was building spec homes. In 2008, he began to get more heavily involved in remodeling work, so much so that he hired his first employee to help with the workload. "We would work one job at a time, and then move on to the next one," Nate remembers.
In 2015, demand for Zehr Homes' services was growing, and Nate began looking for a long-term project manager to bring on full-time. Nate called Doug Zimmer, a friend who was working for a subcontractor at the time. Doug began with Zehr Homes in January 2016, starting a new era for the company. "We were able to do multiple projects at once, now, instead of one at a time," says Nate.
Favorite recent projects
The past several years have found Zehr Homes working on both new builds and extensive remodeling projects.
One of Nate's favorite recent projects was a custom home build for Dee Dee Simmons in the Blue Springs area. The home features an open-concept kitchen, a vaulted-ceiling living room and a big stone fireplace. Nate was able to include all kinds of unique features that fit Dee Dee's life, including a playhouse built under the basement stairs for her grandchildren, and he revelled in the extensive custom trim work.
Another memorable project was a custom home addition for the Paradise family in Mission, Kansas. Nate helped create an addition that matched their home's historical character but fit their growing family. "It was fun," Nate says. "They went from this little kitchen to this huge area where they can all spread out and enjoy."
The cocoon boom
When the pandemic hit, Nate and Lori braced for another housing-market slow-down, but it never came. "It was the total opposite," Nate said. "Ever since a year ago last March, it has been non-stop busy." With more people working, learning and entertaining themselves at home, the requests for remodels have been pouring in. Zehr Homes has been able to hone in on five core project areas: new homes, additions, basements, kitchens, and bathrooms as they work to meet the pandemic-nesting demand.
Looking ahead
Having built a solid, dependable crew and a steady flow of remodeling projects, Nate is looking forward to adding more consistent new home builds in the future. "Now we're able to focus on all aspects of residential construction and meet everyone's needs, whether it's new or a remodel," Nate says. 
---
Contemplating a remodel or a new build?